Government
The Andrews Public Library is a community gathering place: a place for learning, making friends, having fun, and feeling special!
Our Library Co-Managers Jacqueline Hulse and Kelly Bryant make everyone feel at home.
Learn More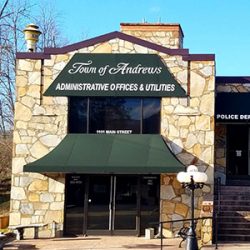 The Town of Andrews, NC operates under the Mayor-Alderman form of government. The Mayor and Board are elected every four years. The Mayor and Board of Aldermen work to improve Town government by adopting the annual budget, adopting ordinances, setting rates, and deciding what level of Town services shall be provided.
Learn More
---
You could be listed here!
Join Today!
for your listing, today!
Already a member of the chamber? Ready to get your listing?
CLICK HERE