The Town of Andrews, NC operates under the Mayor-Alderman form of government. The Mayor and Board are elected every four years. The Mayor and Board of Aldermen work to improve Town government by adopting the annual budget, adopting ordinances, setting rates, and deciding what level of Town services shall be provided.
Meetings
The Mayor and Board meet on the first and second Tuesday of each month. Meetings are held at 6:00 PM at the Town Facilities building located at 85 Fourth Street.
The meeting held on the first Tuesday is a work session when the Mayor and Board review agenda items, ask question about items and issues. No official action is taken at the work session. The Mayor and the Board's regular meeting is held on the second Tuesday of the month. The public is invited to comment or to express concerns with the Mayor and the Board of Aldermen at both the work sessions and the meetings.
How it Works
The Town of Andrews, NC is managed on a day to day basis by the Town Administrator. The Town Administrator works for the Mayor and Board of Aldermen and provides professional advice and pertinent information as the Mayor and Board develops local policy. The Town Administrator is responsible for preparing and recommending the annual Operating and Capital improvement budget for consideration and subsequent approval by the Mayor and Board of Aldermen.
Town Hall administration consists of a Water Clerk, Tax Collector, Public Works Director, Deputy Finance Officer, and Town Clerk in addition to the Town Administrator.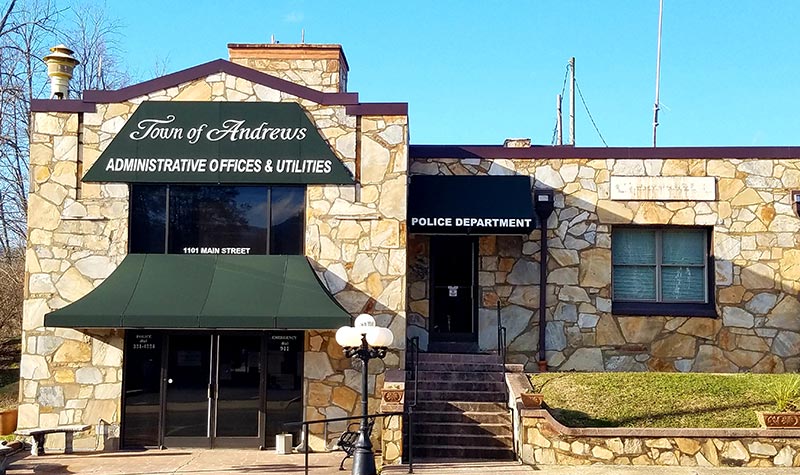 Our Location