The Beautiful Craft of Quilting
Rachel and Bob Carr are the epitome of perseverance. The Carrs were ready to open their Quilt Shop, Reap What U Sew, in Andrews in February of 2020, just weeks before the COVID-19 Pandemic started. They delayed that start, because of lockdowns, and ended up opening in July of 2020.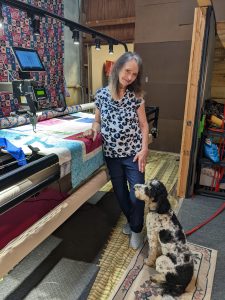 The Carrs have been business owners for over 10 years and decided to move to Andrews in 2015 because of the slower lifestyle, and beautiful scenery. It was easy to choose their location, once they saw the shop at 951 Main Street…it was perfect for their vision.
Reap What U Sew offers their customers custom quilts, fabrics, batiks, notions, batting, and threads in their Andrews, NC store and online via their website. They always ship your order on the same day you placed it, or if you're local you can pick it up at the shop. Services include long arm quilting, and rehabbing & repairs.
Long Arm Quilting
I was intrigued by the long arm quilting, and Rachel took me back to show me her long arm machine. It is a fabulous way to add unique stitching to your quilt! Rachel loads the top, batting, and back into a metal frame, and the machine sews the three layers at once. The computer is used to create unique stitching designs in the quilt. While I was visiting, she was stitching a quilt for breast cancer awareness, and the square for the Susan G. Komen Race for the Cure was being stitched with a sneaker design.
Being a Part of the Community
The Carrs also offer quilting classes that include beginners, paper piecing, and new techniques. They will be adding sign-ups for these classes to their website in the near future, but you can always call to get the class schedule and sign up at (828) 516-5054. Rachel has also started an informal Quilting Group that meets to make and sell quilts for Charity. She feels that local events, such as the Andrews Food Truck Fridays, are the perfect venue for the sale of those quilts.
Speaking of Food Truck Friday, the Carrs always participate in the event. They enjoy meeting new people and talking about their shop and the Town of Andrews. "It's a fun place to sit back and listen to some great music, eat some great food, and make some new friends," said Bob Carr.
Rachel truly has a passion for quilting and teaching people to quilt. "Freehand is my favorite type of stitching," she said, "but I also enjoy helping people decide on long arm designs, and making those a reality as well." As we spoke, she told me that all of her troubles just seem to go away when she's sewing.
I love that the craft of Quilting still exists in this busy world and that Andrews can offer such a valuable little shop to locals and visitors, alike.
You can visit the Reap What U Sew website at reapwhatusew.com or stop by and meet the Carrs in their Andrews Shop at 951 Main Street, just across the street from the Andrews United Methodist Church.
---
Written by Nola Cooper
This article was also published in the June 29, 2022 issue of the Cherokee Scout