Mountain Biking in the Andrews Area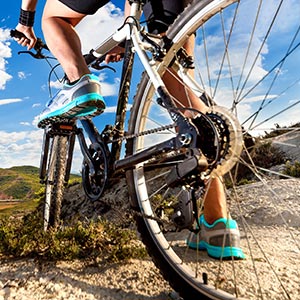 Written by Jan Olson
What do Tsali. Piney Knob, Ramsey Bluff, Santeetlah Lake, Tanasi, Boyd's Gap, Brush Creek, and Jack Rabbit have in common?
They are all Mountain Bike Trails. And those are just a few in the Andrews, NC Area.
I love being out in the woods with my husband on our mountain bikes. While I am a relative novice, he is very advanced. So there are times that I walk the highly technical areas but I always have fun. And so does he!!! Just to give you a sampling of what is in the Andrews, NC area, I have listed several mountain bike trails and how to get there from Andrews.
Piney Knob Hiking & Biking Trails
are 8 miles of trails completed of the 22.3 miles planned, being developed by
Southern Appalachian Bicycle Association (SABA)
. All trails are single track with easier, intermediate, and advanced trails planned. To get there take Hwy 74/129/19 west to Regal Road. Go Right and look for the sign on your right.
Ramsey Bluff Mountain Biking System that provides 8 miles of trails and is located in the Hanging Dog Recreations Area. Much of the trail system is simply laid out on existing logging and fire roads with single track only where it was needed to make a connection. This is where you go to get a work out. To reach Hanging Dog, take Hwy 74/129/19 west to Murphy. Turn Right where 64 goes to the left and go through town and go about 5 miles on SR 1326 north of Murphy. Turn left on SR 1447 and at the end there is plenty of parking. Area is located on Hiwassee Lake.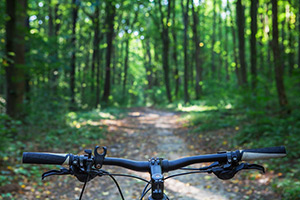 Jackrabbit is a very beginner-friendly trail network and features gentle ups and downs, and is very twisty and very fast! There are very few obstacles, and essentially no technical riding, and very little climbing. However, the flow of this place totally makes up for it. There is a central loop that has other trail loops off of it. To get there take Hwy 74/129 west to Hwy 141, turn left and go to US 64E. Once you get to Hayesville go another for 6.2 miles. Turn right onto NC 175, and go 2.5 miles. Turn right on SR 1155.
Santeetlah Lake Trail consists of the Long Hungry Loop of 3.5 miles, and an extension of another 5.8 miles. It is old forest road, but is intermediate/difficult due to the variation of terrain. Managed for pedestrian, equestrian and mountain bike use, this is an easy trail along the shores of Santeetlah Lake. To get there take Hwy 74/129 and turn left or north on 129 to Robbinsville. Veer left on N.C. 143. In 3.5 miles, go past the first trailhead parking area and continue an additional mile to park adjacent to Carver Cemetery on Long Hungry Road.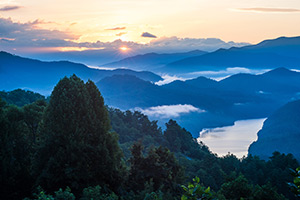 Tsali features four single track loops that hug the banks of Fontana Lake. The trails are super-fast and flowy single track with mostly moderate climbs and amazing scenery. Daily usage alternates between horses and bikes so you don't have to worry about running into spooked riders (check local park maps and signage for who is on which trails when). To get there take U.S. 74 East to Hwy 28, Turn left and then turn right on Tsali Rd.
Nantahala Outdoor Center has Flint River Trails. These are single track roads. The trails are steep but loads of fun. You can rent a mountain bike at the Outdoor Center if you need one. To get there take 74 east. You will see the signs for the Nantahala Outdoor Center on your left.
Tanasi in Tennessee has something for everyone! Boyds and Brush Creek are considered part of Tanasi trail system. Chestnut Mountain Trail to Thunder Rock is fast and technical. Old Copper Road Trail is very flat and easy. The trails are well maintained, and hard to get lost. Lots of fun for all levels. You can ride Old Copper Road over to Brush Creek, and Boyd Gap is short and technical near Brush Creek as well. There is a good bit of climbing as well as descending. Brush Creek ends at the Ocoee Gorge parking area at a metal gate. From the gate, go left 100 feet or so and pick up Boyd Gap Trail. To get there, take Hwy 74/64 west to Tennessee. You will find it off of Hwy. 64/74, starting and ending at Brush Creek, 2.4 miles south of the Ocoee River Whitewater Rafting Center.
Locations and miles of tracks for these mountain bike trails are Jack Rabbit (15 miles single track stacked loops) in Hayesville, Tanasi (30 mile trail system) and Brush Creek (7 mile loop connects to Tanasi) in Ocoee, TN, Boyds Gap (1 mile out and back) in Copper Hill, TN, Tsali (30 miles single track) in Stacoah, NC, Santeetlah (15 miles double track) in Robbinsville, NC, and Piney Knob (8 mile single track) and Ramsey Bluff (8 miles single track) in Murphy NC.
For more information on these and other areas:
www.singletracks.com/mountain-bike/trails
---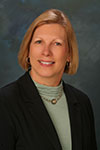 Jan Olson
is currently the Executive Director of the Andrews Chamber of Commerce and Co-Owner (with my husband) of
FernCrest Winery
. I worked for the Food and Drug Administration (FDA) for over 22 years and was a consultant to FDA regulated industries for another 18. I am an avid outdoor person and triathlete having competed in 2 Iron Man competitions. I love gardening, being in the woods, hiking, biking, kayaking, back packing, swimming and running. I cook for fun and for health.