Services include a wide spectrum of specialties, from orthopaedics & sports medicine to cardiology, urology, and general surgery. Other outpatient services include radiology and lab. The cardiac rehab program is the only accredited program in the region; other rehab services offered deliver inpatient and outpatient pulmonary, speech, occupational, and physical therapies for all ages, including pediatric.
Outpatient therapies are housed within Erlanger Fit Plus (formerly the PARC) next door to the hospital campus. The facility also includes a fitness center that is open to the public seven days a week and is a Silver Sneakers affiliate.
Walk-in care is available through the Erlanger Murphy Urgent Care Center at 183 Ledford Street, or Hayesville Express Care, 146 Highway 64, next to Ingles. Both are open seven days a week: Monday – Saturday, 8 AM – 7 PM; and Sunday, 10 AM – 6 PM .
LIFE FORCE Air Medical also has local bases in Andrews, NC, and Blue Ridge, GA, for those patients needing advanced critical care.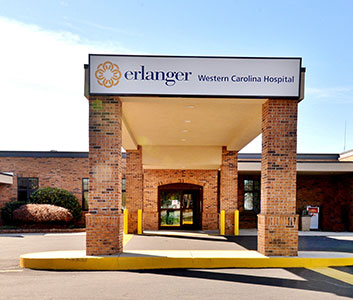 Our Location