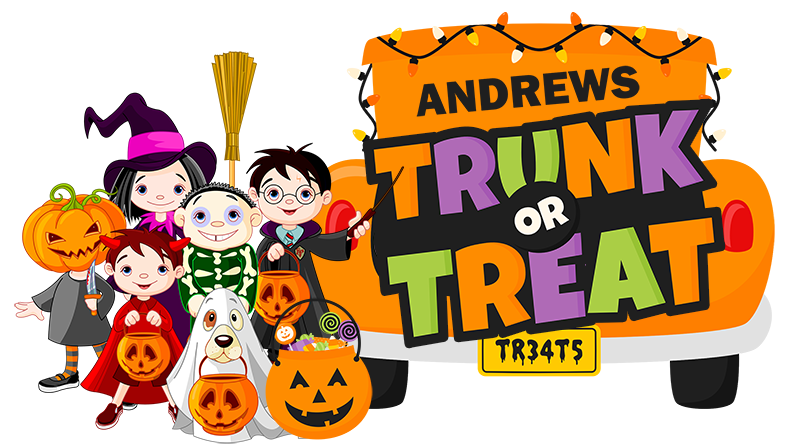 Andrews, NC Annual Trunk or TREAT!!!
5pm – 7pm Thursday, October 31
Downtown on Main Street
IF IT RAINS WE WILL MOVE THE FUN INTO THE VALLEYTOWN CULTURAL ARTS CENTER @ 125 CHESTNUT ST
Main street will be closed to traffic from Cherry to Walnut
from 4:30pm to 7:30pm for this event!
HANDING OUT CANDY: Park in a space on Main Street, decorate your trunk (or hatch if you have an SUV), fill it with goodies and set up at 4:30pm. Keep in mind that there will be children of all ages attending our Trunk or Treat, so you should decorate and costume yourself accordingly.
PHOTOS:
Tag our Facebook page (
@AndrewsNCChamber
) or our Instagram (
@visitandrewsnc
)
OR BOTH
– with your photos! If you'd like to send photos for our 2019 Photo Gallery on the Chamber website, send them to
nolagcooper@gmail.com

After Halloween, donate your extra candy to the Magic on Main Electric Christmas Parade!
Drop off at Andrews NC Chamber of Commerce & Welcome Center, FernCrest Winery Tasting Room or Ameriprise Financial Services, Inc (all located on Main Street in downtown).
Most of all…
Have a great time!