Andrew Chastain @ Calaboose Cellars / Andrews Brewing Company
When:
April 27, 2019 @ 7:00 pm – 9:00 pm
2019-04-27T19:00:00-04:00
2019-04-27T21:00:00-04:00
Where:
Calaboose Cellars
565 Aquone Rd
Andrews, NC 28901
USA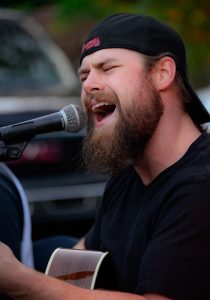 With local demand for available original content, Andrew recorded his first acoustic EP in 2014 featuring the local favorite Carolina Hills. The song was one of the first songs Andrew had written as an ode to his hometown.
"At the time when I started writing that one I was going to school and working in Charlotte, it was the first time I'd lived away from my hometown. Being away from the things we've always had is a good opportunity to gain a new perspective, and maybe appreciate some things we've previously taken for granted." Andrew stated in an interview with a local newspaper about the song.
"I can't tell you the amount of support I received from my hometown on that one, a couple of my friends (Tim Allen and Kagney Colbert) who happened to have experience in studio work, offered to help me record that first EP, I had no clue what I was doing haha. After we had the finished product our local country radio station played Carolina Hills in their regular song rotation, it felt awesome."
The EP release would go on to yield record breaking numbers for the local popular venue location in Murphy and was the jump start for Andrew's official music career.