A magnificent smile is as natural as a warm, inviting garden.
Dr. Ambler and his dedicated team are eager to share their passion for dentistry in starting your journey to optimum dental health.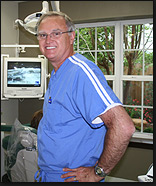 Each patient has different goals. We are here to encourage, educate, and guide you until those goals are reached.
The view from each of our treatment rooms overlooks our "secret" serene garden. Nestled behind our office, every detail of our garden has been well thought out, designed, engineered, and carefully constructed.
Each plant, rock pathway, and vine-covered arbor was placed to give maximum visual pleasure.
Smiles are restored in a similar manner. Every detail will be considered. A comprehensive master plan will be drawn up where the patient's goals will be an integral part.
Esthetics, comfort, function and longevity will be discussed.Properly planned, the end result will be a smile that will be just as pleasing as our beautiful garden, leading to a lifetime of oral health.
We strive to establish a professional relationship based on trust, honesty, and respect. You are welcome!
Our office provides a full range of restorative, aesthetic and reconstructive services.
In addition, we place a strong emphasis on preventing dental disease and educating our patients on the value of good oral health.
Photo Gallery
Our Location